The Houston Conchology Society presents several awards and cash grants each year. Funds for these grants and awards are derived from the HCS annual auction held each March. The Society would like to thank the many contributors and workers who make these auctions successful. Periodically the HCS makes donations to the Houston Museum of Natural Science for the continuing development of the Malacology Department.

(Page last updated April 6, 2018.)
---
T. E. Pulley Award
In 2002 HCS members established the T. E. Pulley award to honor his many contributions to the club. The late Dr. Tom Pulley was the Director of the Houston Museum of Natural Science where he helped to establish the Museum's Malacology Department. He was instrumental in organizing the Northwest Gulf of Mexico Marine Mollusk Survey during the 1960's
He was a valuable asset to a young Houston Conchology Society. Dr. Pulley taught malacology and conchology workshops at the Museum. Many members joined the HCS after attending one of his seminars. He was generous with his time. Members benefited from his educational programs at meetings and from his expertise on field trips. He was very supportive of the Texas Conchologist and contributed articles to it.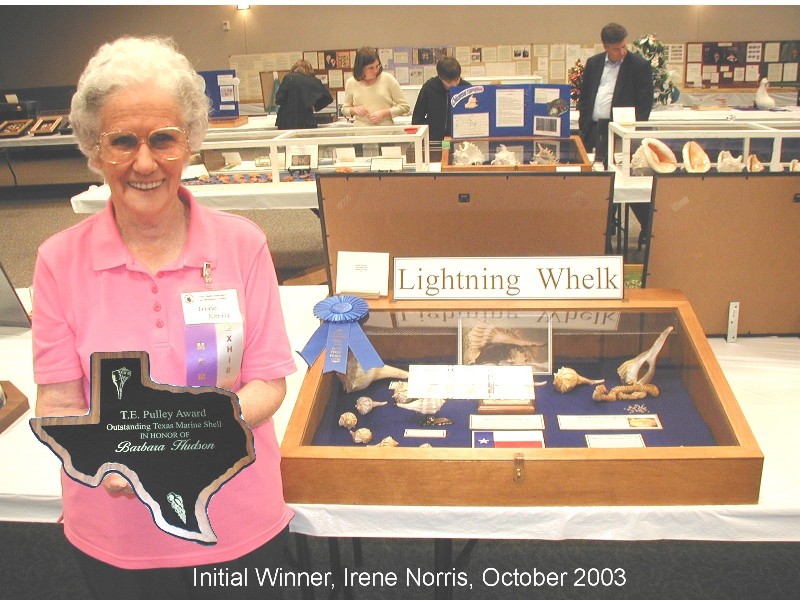 Member Tina Petway designed the T. E. Pulley Award to be presented to a shell show exhibitor <![if !vml]><![endif]>for an outstanding Texas marine shell. The award would be presented in the name of an HCS member who has made outstanding contributions to the club. The first T. E. Pulley Award was presented in the name of Barbara Hudson. The Sea Shell Searchers of Brazoria County shell show was the venue for the first award. Sea Shell Searchers member Irene Norris won for her Busycon contrarium display.

---
McHenry/Houston Conchology Society Grant

As funding permits, a stipend of up to $1,000.00 will be awarded each year to a graduate student studying recent molluscan phylogeny, ecology, physiology, etc. The graduate student must be enrolled in a Texas university or college and must be researching Texas molluscan species. The recipient may use these monies to help defray travel (e.g., meetings, field work, museum visits) and research expenditures (e.g., supplies, electron microscope time, etc.) Interested students must submit a completed application form and a concise proposal (not more than three pages) outlining their research. Recipients must submit a short paper for publication on this website and present a prepared program, e.g. a DVD, to the HCS. All paperwork must be postmarked by June 1. Applications must be submitted in triplicate by regular mail to: Tina Petway; Houston Museum of Natural Science; 5555 Herman Park Dr.; Houston, TX 77030. The HCS Grants Committee judges applications. Announcement of the award will be made by July 1.

Click here for a printable copy of the application form: APPLICATION FORM

Questions? E-mail Tina Petway at tpetway@hmns.org .
---
Constance E. Boone Award
Connie Boone was a founding member of the Houston Conchology Society. During most of her years of membership, she served as editor or co-editor of the Texas Conchologist and wrote many of its articles. Through the years she organized and participated in many club activities. From 1996-1999 she served as the club's president. She shared her knowledge with club members, but she always encouraged them to read and learn more about the shells they collected. For many years she worked as a volunteer in the Malacology Department of the Houston Museum of Natural Science. After the death of Dr. T. E. Pulley, Connie became Curator of the Department and held that position until her retirement in 1995. She was involved in the Northwest Gulf of Mexico Survey that the Museum sponsored in the late 1960's, and she directed the first installation of the Strake Hall of Malacology at the Museum. In the mid 1990's, Connie served as President for AMU, a national organization for malacologists.

The annual Constance E. Boone Grant to Malacology provides up to $1000 to qualified persons undertaking research on recent marine mollusks.



Awards will only be made to citizens of the United States or its territories who are enrolled in undergraduate and graduate studies at a United States college or university.

The Houston Conchology Society (HCS) Grants Committee judges applications. Awards will be announced on the first of June each year.
If a grant is awarded, the recipient must submit a summary of the project progress to the chairperson of the Grants Committee within one year of the award. This report should be at least one page in length, reporting positive and/or negative results. Recipients who do not comply with this stipulation will be required to return the award.

Grant recipients are encouraged to submit a short paper concerning their research to Tina Petway for publication in the scientific publications section of the HCS webpage.

APPLICATION INSTRUCTIONS



There is no official application form. Applications should not exceed 5 single space pages and should include the following:
1 - Project title;
2 - Project summary - not to exceed 200 words;
3 - Proposal body, including background information (introduction) necessary to understand the project and its significance, a material and methods section, and the proposed research plan;
4 - Itemized budget of estimated expenses;
5 - Literature referenced; and
6 - One page CV or resume including address, phone number, e-mail, etc.
All students must submit a letter of recommendation from and academic or professional source.

If funding is being requested from several sources, an overall budget for the project may be presented with items and total amount requested from the HCS clearly indicated. Grants will not cover salaries, overhead, expendable or permanent equipment, conferences, or meeting costs.

Postmark deadline for applications is May 1st of each year.
Applications must be submitted in TRIPLICATE by regular mail to: Tina Petway; Houston Museum of Natural Science; 5555 Herman Park Dr.; Houston, TX 77030.


Questions? E-mail Tina Petway at
tpetway@hmns.org
.
Site last updated 4/6/2018.